About Me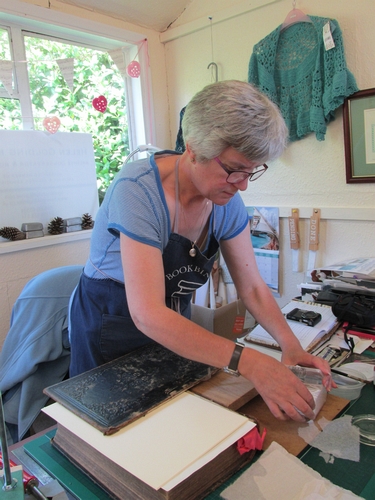 I'm Helen Golding Miller, a bookbinder and conservator, based in South Cumbria.
I grew up in Yorkshire and Cumbria and studied a foundation course in Art and Design in Carlisle before moving to Guildford to study Book Binding and Restoration / Conservation. I worked as an Archive Conservator for Sheffield Libraries and Archives from 1988 to 2006 gaining Accredited and Registered status as an Archive Conservator in 2000. In 2006 my family and I moved back to Cumbria and in 2007 I began my business as a freelance Conservator and Bookbinder.
My recent work has included:
The Wordsworth Trust at Grasmere - surveying their library and undertaking preservation measures, training students on all aspects of Preservation and Conservation and holding workshops.
Sunderland University - Neemarc (North East England Mining Archive Research Centre) Project - surveying items, undertaking Conservation work and training staff.
National Trust - making facsimiles of two Beatrix Potter sketchbooks for the Gallery at Hawkshead and a facsimile of Elizabeth Brown's cookery book for Townend. Also making book supports and spacers.
In situ conservation work on 1,200 books in the library at Townend.
Private Clients.
I am a member of:
Society of Bookbinders
Archives and Records Association
Institute of Conservation
Designer Bookbinders
Heritage Crafts Association
The Institute of Conservation
I am available for talks, demonstrations, workshops, surveying of collections, and full conservation and bookbinding.